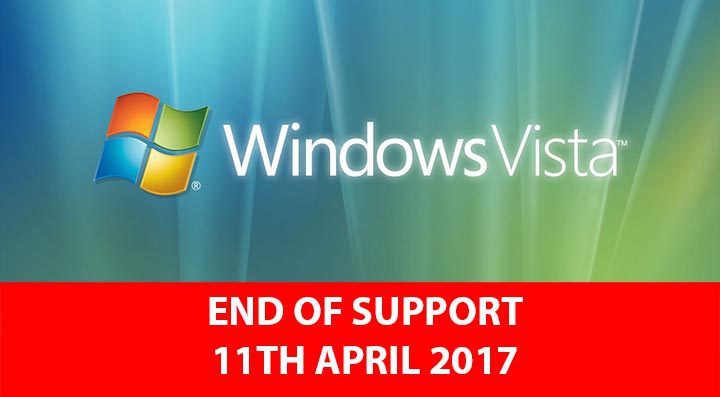 No more support for Windows Vista!  Windows Vista End of Support 11th April 2017
So long Windows Vista, you weren't that popular anyway.
With the release of Windows Vista in 2009, Microsoft were hailing it as the best Windows OS yet, but real world use differed and so it was slated as being terrible.
Was it that bad?
I feel it was a bit hardware heavy and the PC specs we were used to with XP didn't cope very well with Vista. 4Gb of RAM minimum was my recommendation to anyone who wanted to stick with it and the best CPU you could afford.
Roll forward to the next release of Windows (7) and it's what Vista should have been!  By then had we accepted the extra hardware requirements and therefore 7 coped well enough? It's possible, though a lot more work was put in to Windows 7, Microsoft had a lot riding on it.
Coming back to Vista and the point of this post, Vista will no be longer receiving updates of any kind and is considered end of support on the 11th April this year.
Windows Vista End of Support 11th April 2017
What does that mean for anyone running Windows Vista, upgrade Windows as soon as you can.
When Windows XP went end of support in 2014 (doesnt seem that long ago!) we saw an influx of malware looking to take advantage of security holes that were no longer being addressed.
Even in recent months we've seen XP PC's infected with up to date Anti Virus (AV) software.
The best course of action we can recommend is to stay current (Windows 10) and stay protected (Anti Virus Software).
ESET is currently one of the best AV solutions out there and we've worked with SE Labs to test a number of products – Some are good, some definitely are not.
If you're running Windows Vista, would like help upgrading to Windows 10 or helping secure your PC's and networks, talk to us today about how ESET or our other security partnerships will work for you.
Windows-As-A-Service
Save on the upfront cost of Windows 10 operating system licenses by taking advantage of subscription based Microsoft E3 or E5 Windows Licensing from as little as £5.50+VAT per license, per month (prices correct at time of writing).
Windows Vista End of Support 11th April 2017, make sure you have taken the necessary steps to protect you and your business.
info@sbsit.co.uk / 020 3397 5940
Contact Us

<!-- Windows 10 --><!-- [et_pb_line_break_holder] --><div id='dccn-99b06cb075'></div><!-- [et_pb_line_break_holder] --><script type='text/javascript'><!-- [et_pb_line_break_holder] -->var ccs_cc_args = ccs_cc_args || [];<!-- [et_pb_line_break_holder] -->(function () {<!-- [et_pb_line_break_holder] -->   var o = ccs_cc_args; o.push(['_SKey', '27f5c4df']); o.push(['_ZoneId', '99b06cb075']); <!-- [et_pb_line_break_holder] -->   var sc = document.createElement('script'); sc.type = 'text/javascript'; sc.async = true;<!-- [et_pb_line_break_holder] -->   sc.src = ('https:' == document.location.protocol ? 'https://' : 'http://') + 'cdn.cnetcontent.com/jsc/h.js';<!-- [et_pb_line_break_holder] -->   var n = document.getElementsByTagName('script')[0]; n.parentNode.insertBefore(sc, n);<!-- [et_pb_line_break_holder] -->})();<!-- [et_pb_line_break_holder] --></script>